Get ready to embark on a unforgettable adventure as you journey to the Land of Smiles for an experience filled with ancient temples, tropical beaches, and mouthwatering cuisine. 
Bangkok city tour
Koh Samui
Local Thai Cooking class
Ang Thong National Marine Park
Thalay Nai or Emerald Lake
Phra Nang Beach
 Railay beach
Dragon's crest mountain
Ao Nang beach
Phi Phi Island
Hong Island boat tour
DAY 1
Welcome to Thailand!
Welcome to Bangkok, the capital of Thailand and a city that never sleeps and is known for its vibrant street life, beautiful temples and some of the best food in Asia.
Today we'll all be arriving and checking into our hotel where we'll have some time to unwind from our travels and reenergise ourselves,
Please make sure to arrive in Bangkok by Noon or earlier to ensure you can enjoy the itinerary of this day from start to finish.
Later in the evening we will go on a Tuk Tuk tour that will show us the beauty of Bangkok by night. We'll be visiting multiple famous sites such as temples and markets but not without filling our belly with some of the best foods the city has to offer!
Once we're done with the tour we'll be heading back to our hotel to get some much needed rest for our island adventure tomorrow.
Overnight in Bangkok (breakfast)
---
DAY 2
Off to the beach we go
Today we'll be saying our goodbyes to the mainland and we'll catch a flight to Koh Samui, the largest island in the Gulf of Thailand and a beach paradise with picturesque jungle backed beaches with some of the best boat tours in the region.
We'll have the entire day to lounge and bask in the sun of these beautiful palm-fringed beaches of this tropical island. At night, we will participate in a local Thai cooking class. Cooking classes are a wonderful way to learn about any cultures history, traditions and incredible flavors and today we'll have the amazing chance to go on a food adventure with Thai chefs as they guide us through harvesting your own fresh herbs and vegetables to contribute to the cooking experience.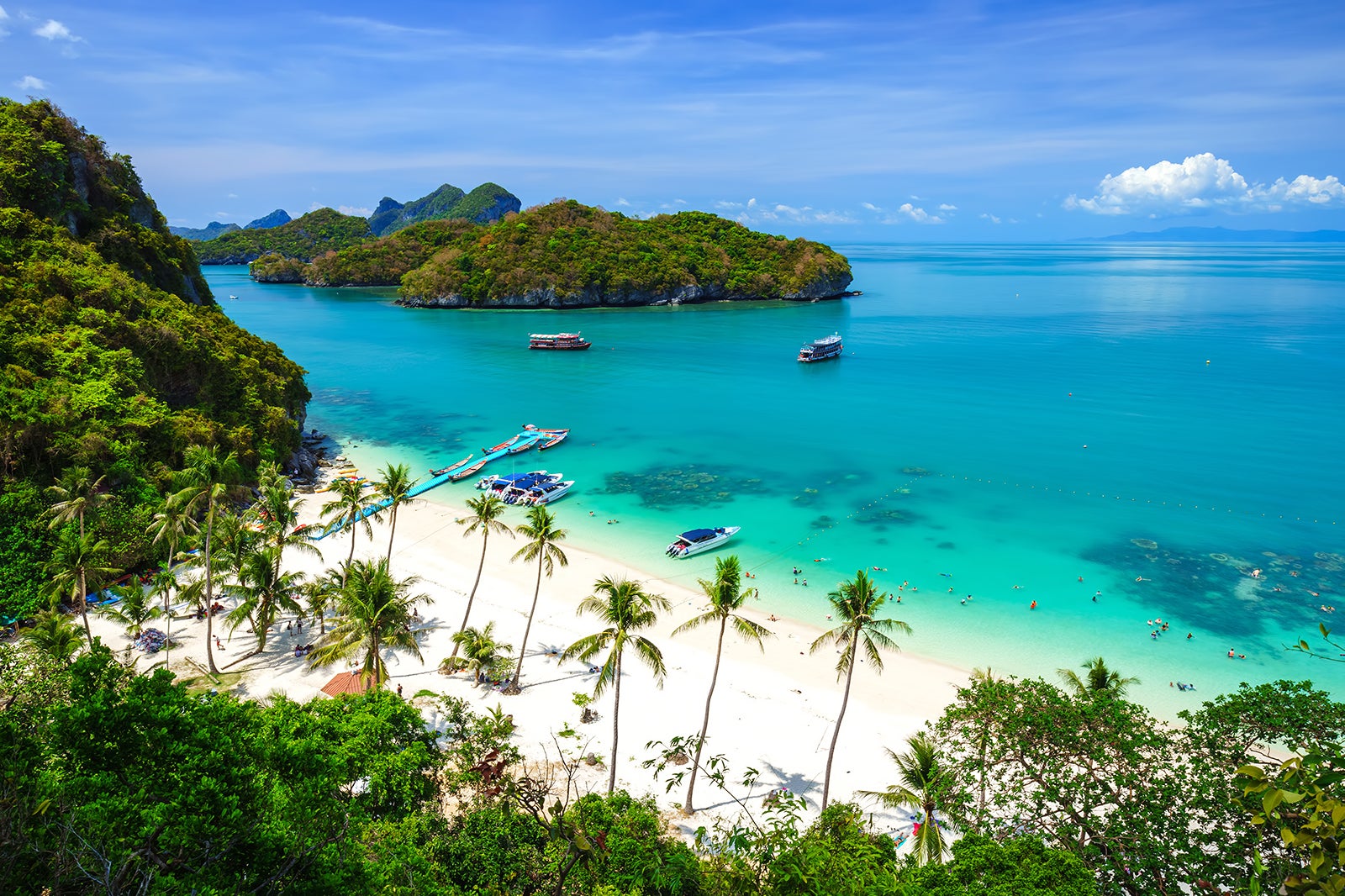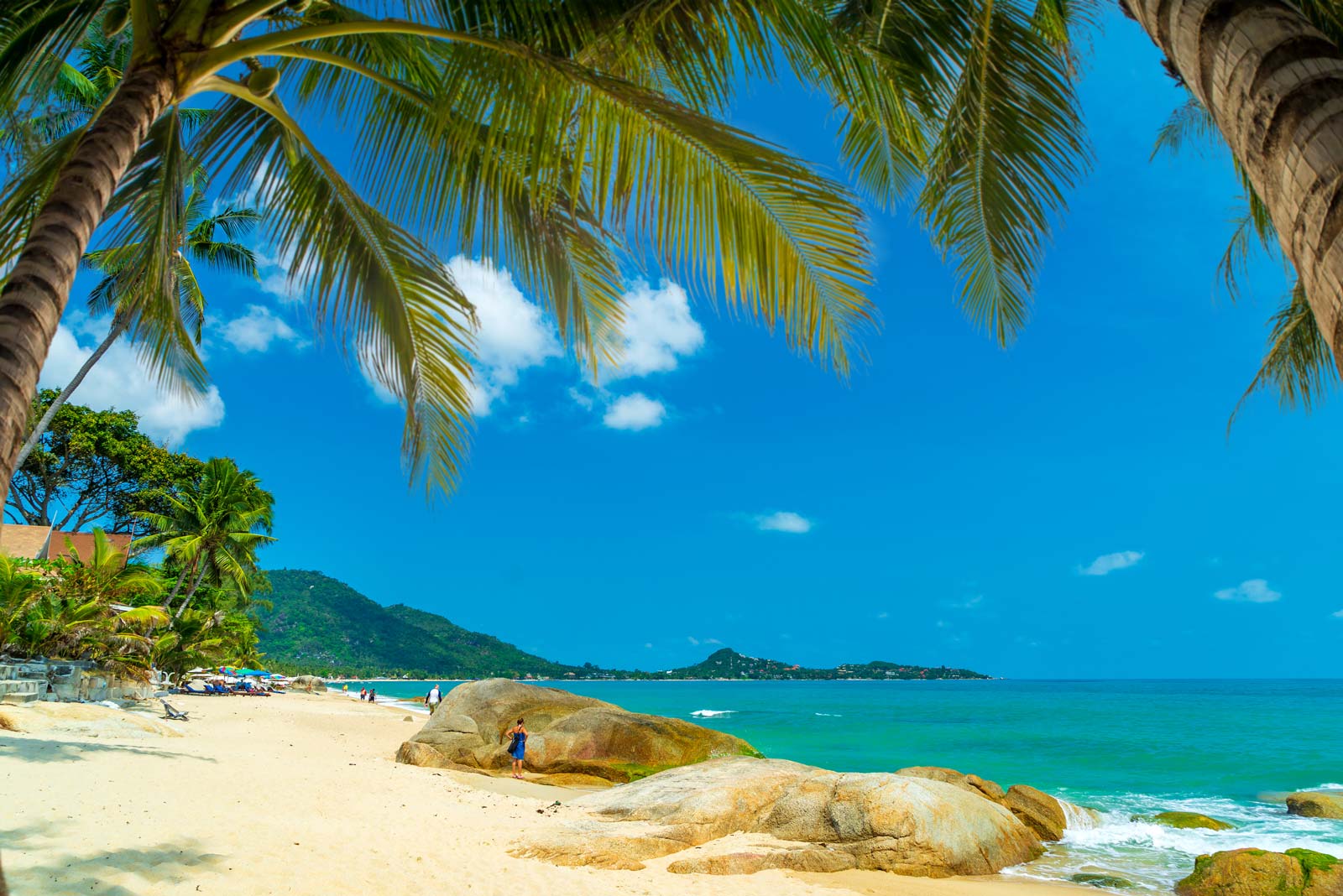 Koh Samui
Local Thai Cooking class
Flight Details: 
Overnight in Koh Samui (Breakfast)
---
DAY 3
Ang Thong National Park
Today  we'll be going to Ang Thong National Marine Park, one of the highlights for anyone visiting Koh Samui and a fascinating archipelago of 42 or so islands in the Central Gulf Coast of Southern Thailand.
At Ang Thong we'll have the opportunity to visit Thalay Nai or the Emerald Lake, a saltwater lake surrounded by limestone cliffs. Enjoy water activities like snorkeling, sea kayaking, get in touch with well-preserved nature of the national marine park.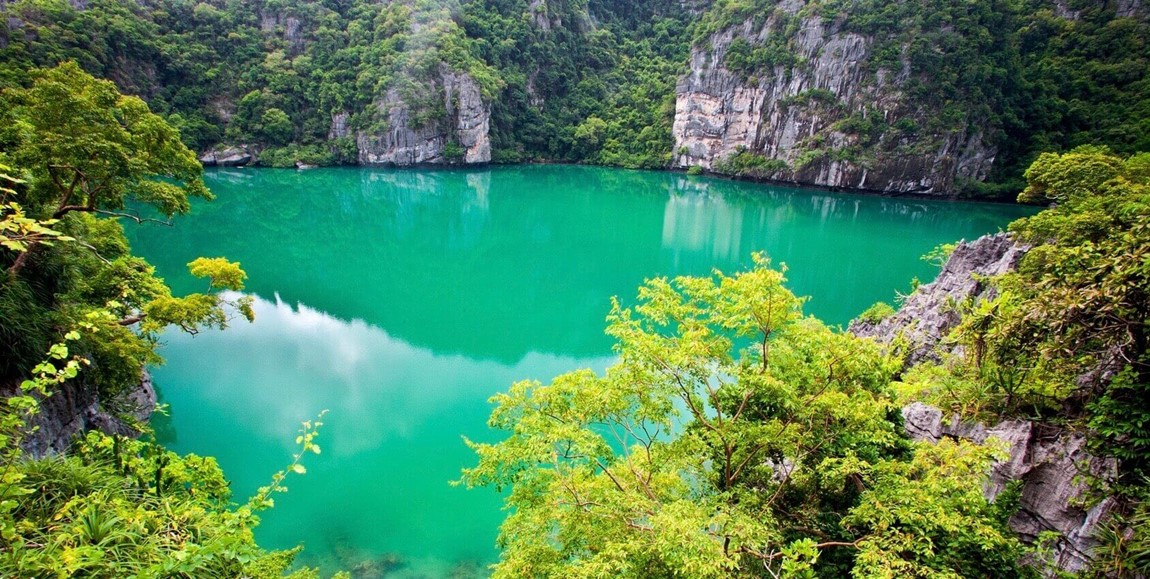 Ang Thong National Marine Park
Thalay Nai or Emerald Lake
 
Overnight in  Koh Samui (Breakfast)
---
DAY 4
Off to Krabi... 
Today we'll wake up early for breakfast so we can catch our flight to the Krabi, a breathtaking destination, know for its natural beauty and cultural heritage. 
After checking in to our hotel, we will make our way to Railay beach, where we will be spending the rest of our day swimming in its turquoise water, and enjoying its beautiful sunsets. 
Phra Nang Beach 
Railay beach
Flight Details: 
Overnight in Ao Nang (Breakfast)
---
Day 5
Dragon's Peak Trek
After breakfast, we will begin the Dragon's crest mountain hike, an exhilarating adventure that takes you to a breathtaking viewpoint. The trail starts in lush forests, gradually ascending to offer stunning panoramic views. At the summit, you'll be rewarded with jaw-dropping vistas. Ensure you're well-prepared with proper gear and enjoy this memorable hiking experience. After that we will head to Ao Nang beach. The beach offers a serene setting to immerse yourself in the beauty of nature. Take a moment to unwind, reflect, and capture the tranquility of this mesmerizing sunset.
Dragon's crest mountain
Ao Nang beach
Overnight in Ao Nang  (Breakfast)
---
DAY 6
Phi-Phi Island 
Today we'll wake up early for breakfast so we can catch our boat. 
A boat tour of Phi Phi Island is an exhilarating adventure that allows you to explore its stunning beauty. Sail through turquoise waters, witness towering limestone cliffs, and visit secluded coves and hidden beaches. Snorkel amidst vibrant coral reefs and encounter colorful marine life. Embark on this unforgettable journey to experience the natural splendor of Phi Phi Island.
Overnight in Ao Nang (Breakfast)
---
DAY 7
Elephant Sanctuary
After breakfast you will have the chance to experience a once in a life time experience to see the gentle giants of Asia at the Elephant sanctuary, an ethical sanctuary for these beautiful animals where they focus on rescuing elephants and giving them maximum freedom to naturally roam.
Then we will begin our Hong Island boat tour. As you sail through the sparkling waters, prepare to be captivated by the majestic limestone cliffs that guard this hidden gem. The highlight of the tour is the legendary Hong Lagoon, a hidden paradise nestled amid towering karsts. Accessible only during low tide, you'll feel like you've discovered a secret world as you soak in the emerald-green waters, surrounded by nature's peaceful embrace.
Elephant sanctuary
Hong Island boat tour
Optional activity: Elephant sanctuary 
Overnight in Ao Nang (Breakfast)
---
DAY 8
New Years Eve
We will head back to Bangkok and get ready to celebrate the new year. Celebrating New Year's in Bangkok is an unforgettable experience filled with vibrant festivities, dazzling fireworks, and a unique blend of traditional and modern celebrations.
Flight Details: 
Overnight in Bangkok (breakfast)
DAY 9
Departure 
Sadly the trip has come to an end, so get your souvenirs and say your goodbyes before checking out.
What is included in the tour
All accommodation on B&B basis
All tours mentioned in the itinerary
All transfers to hotels and tours
Meals mentioned in the itinerary
Professional, English speaking guide
Airport transfer from Hotel to Airport
What is NOT included in the tour
Meals not mentioned in the itinerary
Optional Activities
Beverages and drinks
International Flights
Internal flights 
Personal Expenses
Tips
Visa Requirements
Please visit the following link for more information on Visa Process and Requirements
https://cairo.thaiembassy.org/en/page/68399-visa-application?menu=5d81bfb315e39c24dc003518
---
Pocket Money
200$-300$
Every traveller is different and therefore spending money requirements will vary. Some travellers like to purchase more souvenirs than others. 
---
Adventure Leader Description
The Adventure Leader's mission is to make sure you have a smooth experience and to help you have the best experience possible. They will offer recommendations for things to do and see, great local eating venues and help the group interact and get to know each others (most of the time this actually happens on its own). While not being guides in the traditional sense you can expect them to have a broad general knowledge of the countries visited. We also use local guides where we think more specific knowledge is needed.
---
Group Size
Maximum: 19 pax
---
Meals
Food is an essential part of traveling. Traveling with Gazef we try as much as we can to help you experience the different kinds of food available in each destination. Our groups tend to eat together to enable you to enjoy each other's company. There is no obligation to do this at all times though. We usually leave out some of the meals excluded from the itinerary to give you the flexibility to choose what to eat based on your personal preference. It also gives you more budgeting flexibility. Your Adventure Leader will be able to suggest good restaurants during your trip. Vegetarians will be able to find a range of different foods, although in some areas the choice maybe limited.
---
Solo Travellers
Our group trips are designed for shared accommodation and do not involve a mandatory single supplement unless requested. Single travellers joining group trips are paired in twin accommodation with someone of the same sex for the duration of the trip. 
---
What to Pack
A Packing List will be sent to you as soon as you book the trip. We suggest that you pack as lightly as possible as your are expected to carry your own luggage. Suitcases are not recommended–most travellers carry a backpack or rolling bag of small to medium size (no XXL ones please!). You will also need a day pack/bag to carry water, cameras and other belongings.