Dates and Rates
Available Departure Dates
Sorry no more departures available. You could get in touch with us at booking@gazef.com if you'd like to make a booking.
Lemosho Route ,Quieter & Scenic. Good acclimatization. Success rate: 90-96%.The Lemosho  routes start on the far Western side of Mount Kilimanjaro at the Londrossi Gate. The western side  of Kilimanjaro is still very wild and you may get lucky and spot large antelope, and buffalo. 
It is best trekked on a 7 day itinerary and offers great acclimatization. The Lemosho Route is great for acclimatization and of course increases the probability of success. The seven day route typically stops for a night at both Shira Camp 1 and Shira Camp 2. 
Note: You can get the Visa Info and apply through the link below and it takes up to 10 Working Days.
https://www.eg.tzembassy.go.tz/services/category/visa-information
9 Nights 10 Days
Available on request
DAY 1
Welcome to Arusha!
Welcome to Arusha, our rest stop before heading to Londorossi Gate tomorrow to start our ascent of the majestic Kilimanjaro.
Overnight in Arusha
---
DAY 2
Londrossi Gate to Mti Mkubwa
Distance: 6 km 
Elevation: 2,360m to 2,895m  Hiking Time: 3-4 hours
Habitat: Rain Forest 
We depart Moshi /Arusha for Londorossi Gate, which takes about 4 hours, where you will  complete entry formalities. Then drive to the Lemosho trailhead. Upon arrival at trailhead, we  begin hiking through undisturbed forest which winds to the first camp site. 


Overnight in Mti Mkubwa
---
DAY 3
Mti Mkubwa to Shira 1 Camp
Distance: 8 km
Elevation: 2,895m to 3,505m  Hiking Time: 5-6 hours
Habitat: Heath
We continue on the trail leading out of the rain forest and into a savannah of tall grasses,  heather and volcanic rock draped with lichen beards. As we ascend through the lush rolling hills  and cross several streams, we reach the Shira Ridge before dropping gently down to Shira 1  Camp. Here we catch our first glimpse of Kibo across the plateau.
 
Overnight in Shira 1 Camp
---
DAY 4
Shira 1 Camp to Moir Hut
Distance: 11 km
Elevation: 3,505m to 4,205m  Hiking Time: 5-7 hours
Habitat: Heath 
We explore the Shira Plateau for a full day. It is a gentle walk east on moorland meadows  towards Shira 2 Camp. Then we divert from the main trail to Moir Hut, a little used site on the  base of Lent Hills. A variety of walks are available on Lent Hills making this an excellent  acclimatization opportunity. Shira Plateau is one of the highest plateaus on earth. 
Overnight in Moir Hut
---
DAY 5
Moir Hut to Lava Tower to Barranco Camp
Moir Hut to Lava Tower
Distance: 7 km
Elevation: 4,205m to 4,630m  Hiking Time: 4-5 hours
Habitat: Alpine Desert 

Lava Tower to Barranco Camp 
Distance: 3 km
Elevation: 4,630m to 3,975m  Hiking Time: 2-3 hours
Habitat: Alpine Desert 
We begin the day climbing up a ridge and then head southeast towards the Lava Tower – a 300  ft tall volcanic rock formation. We descend down to Barranco Camp through the strange but beautiful Senecio Forest to an altitude of 13,000 ft. Although you begin and end the day at the  same elevation, the time spent at higher altitude is very beneficial for acclimatization.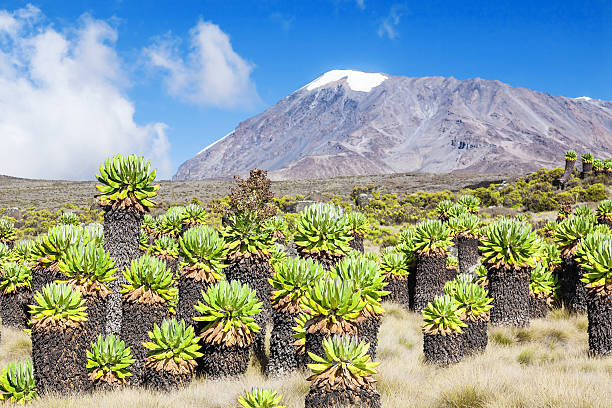 Overnight in Barranco Camp
---
Day 6
Barranco Camp to Karanga Camp
Distance: 5 km
Elevation: 3,975m to 3,995m  Hiking Time: 4-5 hours
Habitat: Alpine Desert 
We begin the day by descending into a ravine to the base of the Great Barranco Wall. Then we  climb the non-technical but steep, nearly 900 ft cliff. From the top of the Barranco Wall we cross  a series of hills and valleys until we descend sharply into Karanga Valley. One more steep climb  up leads us to Karanga Camp. This is a shorter day meant for acclimatization.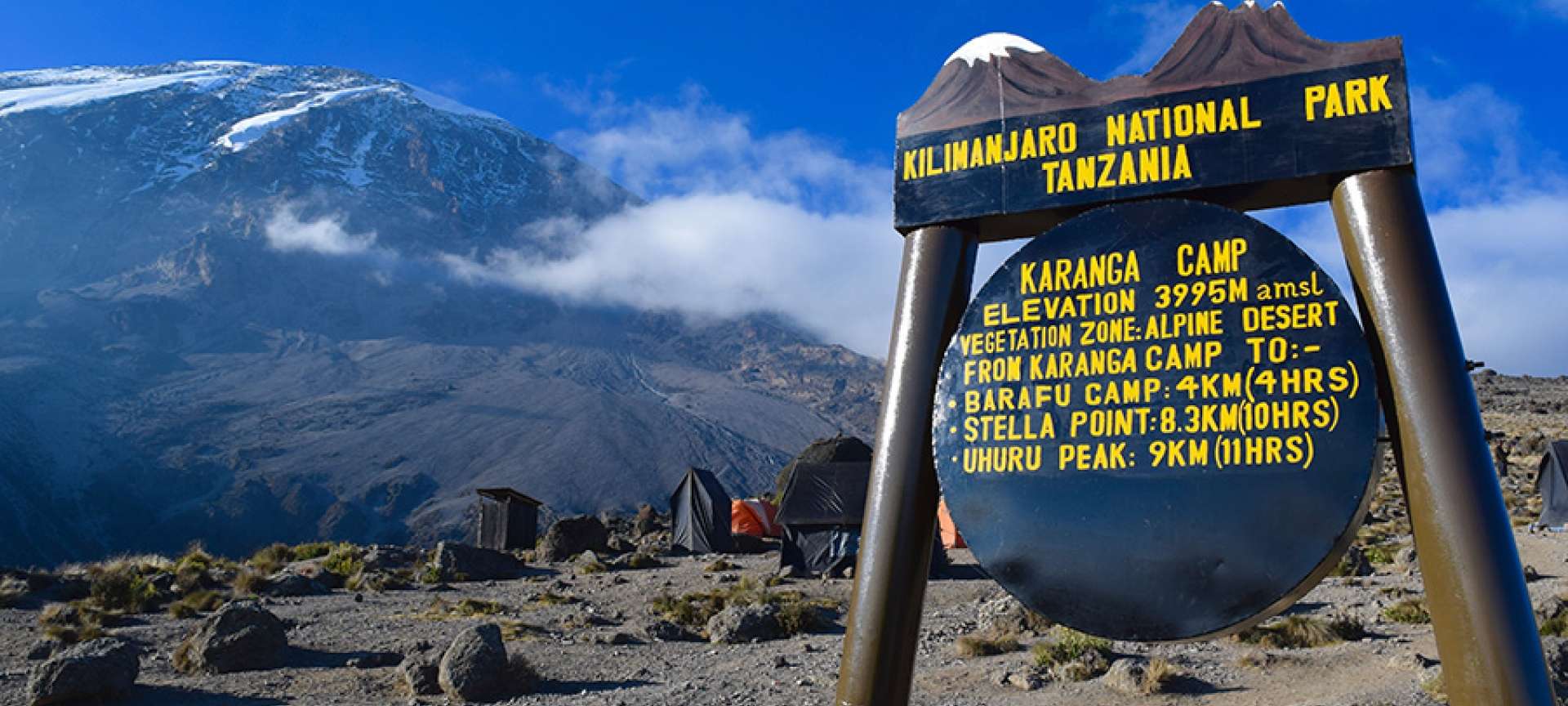 Overnight in Karanga Camp
---
DAY 7
Karanga Camp to Barafu Camp
Distance: 4 km
Elevation: 3,995m to 4,675m  Hiking Time: 4-5 hours
Habitat: Alpine Desert 
We leave Karanga and hit the junction which connects with the Mweka Trail. We continue up to  the rocky section to Barafu Hut. At this point, you have completed the Southern Circuit, which  offers views of the summit from many different angles. Here we make camp, rest and enjoy an early dinner to prepare for the summit day. The two peaks of Mawenzi and Kibo are viewable  from this position.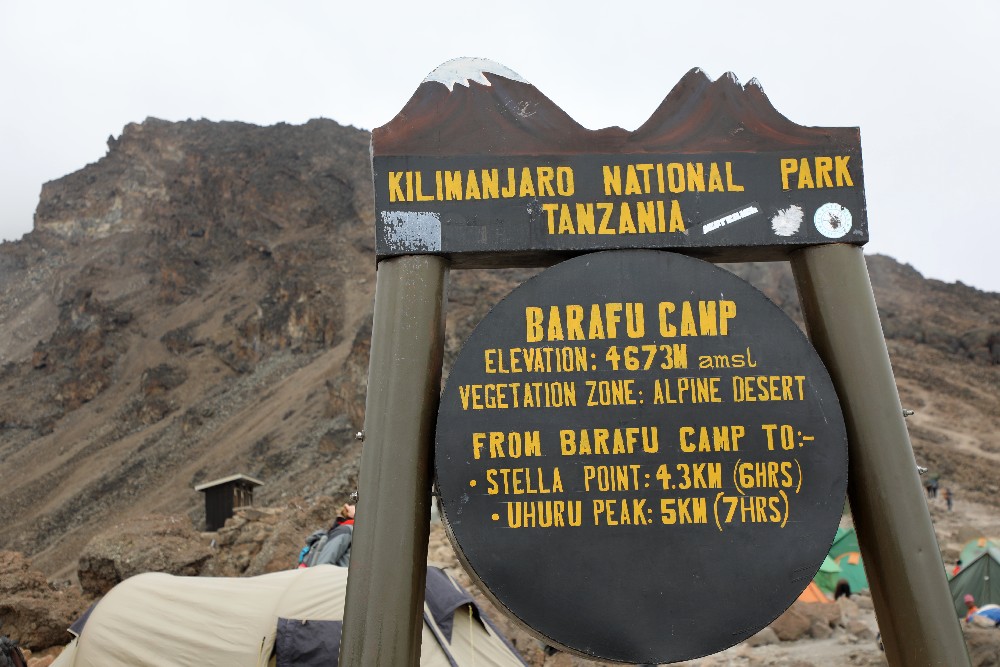 Overnight in Barafu Camp
---
DAY 8
Barafu Camp to Uhuru Peak
Distance: 5 km
Elevation: 4,675m to 5,895m  Hiking Time: 7-8 hours
Habitat: Arctic 
Uhuru Peak to Mweka Camp 
Distance: 12 km
Elevation: 5,895m to 3,070m  Hiking Time: 4-6 hours
Habitat: Rain Forest 
Very early in the morning (around midnight), we begin our push to the summit. This is the most  mentally and physically challenging portion of the trek. The wind and cold at this elevation and  time of day can be extreme. We ascend in the darkness for several hours while taking frequent,  but short, breaks. Near Stella Point (18,900 ft), you will be rewarded with the most magnificent  sunrise you are ever likely to see coming over Mawenzi Peak. Finally, we arrive at Uhuru Peak 
the highest point on Mount Kilimanjaro and the continent of Africa. 
From the summit, we now make our descent continuing straight down to the Mweka Hut camp  site, stopping at Barafu for lunch. The trail is very rocky and can be quite hard on the knees;  trekking poles are helpful. Mweka Camp is situated in the upper forest and mist or rain can be  expected in the late afternoon. Later in the evening, we enjoy our last dinner on the mountain  and a well-earned sleep.
Overnight in Illusion Boutique hotel (Breakfast)
---
DAY 9
Mweka Camp to Mweka Gate
Distance: 10 km
Elevation: 3,070m to 1,640m Hiking Time: 3-4 hours
Habitat: Rain Forest 
On our last day, we continue the descent to Mweka Gate and collect the summit certificates.  At lower elevations, it can be wet and muddy. From the gate, we continue another hour to  Mweka Village. A vehicle will meet us at Mweka Village to drive us back to the hotel in Moshi or Arusha
Overnight in Arusha
---
DAY 10
Departure back home
We're back to where we started, give yourself a big fat pat on the back for the incredible feat you just achieved but sadly now it's time to say our goodbyes and catch our flights home.
What is included in the tour
2 Nights' Accommodation in Moshi/Arusha (before & after climb)

Pick up/Transfer to Airports

Hotel accommodation includes storage facilities for excess luggage during hikes

Return transfers between the hotel to the start/finish point of a climb

All Kilimanjaro National Park gate fees, camping/hut fees and climbing permits

Kilimanjaro National Park rescue fees (Kilimanjaro Rescue Team)

Qualified mountain guide, assistant guides, porters and cook

Breakfast, lunch and dinner, as well as hot drinks on the mountain

Camping equipment (tents, camp chairs, camp tables, mess tent & cutlery for meals)

Oxygen cylinders and oximeters

Kilimanjaro National Park certificate for your successful summit attempt
What is NOT included in the tour
International Airfare

Entry visa for Tanzania (US$50 per passport holder for most nationalities / US $ 100 per visa for USA passport holders)

Vaccination requirements (Yellow Fever – only compulsory if you travel to Tanzania via a Yellow Fever infected country, Meningitis & Hepatitis A remains optional, but recommended)

Optional but highly recommended travel and medical insurance.

Meals not mentioned in the program

Personal Spending

Optional Activities

Visa Fees

Airport Drop off transfer

Items of a personal nature

Tips for guides, porters and cook

Personal hiking/trekking gear – you could rent some of the gear in Tanzania

Snacks, personal medicine, and water purifying tablets
Pocket Money
200$-400$
Every traveler is different and therefore spending money requirements will vary. Some travelers like to purchase more souvenirs than others. 
---
Adventure Leader Description
The Adventure Leader's mission is to make sure you have a smooth experience and to help you have the best experience possible. They will offer recommendations for things to do and see, great local eating venues and help the group interact and get to know each others (most of the time this actually happens on its own). While not being guides in the traditional sense you can expect them to have a broad general knowledge of the countries visited. We also use local guides where we think more specific knowledge is needed.
---
Group Size
Average: 12 pax
---
Meals
Food is an essential part of traveling. Traveling with Gazef we try as much as we can to help you experience the different kinds of food available in each destination. Our groups tend to eat together to enable you to enjoy each other's company. There is no obligation to do this at all times though. We usually leave out some of the meals excluded from the itinerary to give you the flexibility to choose what to eat based on your personal preference. It also gives you more budgeting flexibility. Your Adventure Leader will be able to suggest good restaurants during your trip. Vegetarians will be able to find a range of different foods.
---
Solo Travelers
Our group trips are designed for shared accommodation and do not involve a mandatory single supplement unless requested. Single travelers joining group trips are paired in twin/triple accommodation with someone of the same sex for the duration of the trip. 
---
What to Pack
What you need to bring depends on the trip you have chosen and the countries or regions you are planning to visit. A Packing List will be sent to you as soon as you book the trip. We suggest that you pack as lightly as possible as your are expected to carry your own luggage. Suitcases are not recommended–most travelers carry a backpack or rolling bag of small to medium size (no XXL ones please!). You will also need a day pack/bag to carry water, cameras and other belongings. 
---
Tipping
Tipping is an expected, though not compulsory, component of your tour program. The gesture serves as an expression of appreciation for exceptional service, and amounts given are up to your discretion.
Tipping is one of the most direct ways that you can have a positive economic impact within the community. Although it may not be customary for you, it is an important source of income for those in the tourism industry. Giving a tip should be a seen as a formal 'thank you', and the action should in no way be awkward.
---
ELECTRICITY

The power supply in Albania is nominally Type C and F on 230V supply voltage and 50Hz.
---