Dates and Rates
Available Departure Dates
Sorry no more departures available. You could get in touch with us at booking@gazef.com if you'd like to make a booking.
Breath taking forests, Ionian & Adriatic coastlines, Alpine Mountains, A rich history and architecture from different empires and eras, Bunkers around every corner, Winding Canyons and more all come together in the beautiful Balkan country of Albania. 
This lush country won't just offer you some of the most pristine and calming scenery in the region, it will also give you a peek into a melting pot culture &history.
7 Nights 8 Days
Available on request
Cities: Tirana, Kruje, Shkoder, Theth, Berat, Llogara, Gjirokaster
Walking tour through Tirana
Dajti Mountain Cable Car Visit
Kruje Old Bazar
Shkoder Lake Kayaking
Grunas Waterfall and Canyon Hike
Porto Palermo
Holta Canyon Walking
Berat guided walking tour
Girokaster Walking Tour
DAY 1
Welcome to Tirana!
Welcome to Tirana, one of the most beautiful cities in Eastern Europe where you can feel the architectural influences of both the Soviet & Ottoman empire.
First you'll get picked up from the airport and dropped off at our hotel in Tirana to unwind from your trip. In the afternoon we'll start our walking tour through Tirana.
We'll start off by making our way to the core of the city at Skanderbeg Square and the Clock tower where we'll be able to explore the pastel coloured buildings that surround the heart of this city and try to spot as many of the bunkers around every corner of both this city and country.
Later on we will take a cable car to the top of Dajti mountain so we can enjoy one of the most picturesque views of Tirana.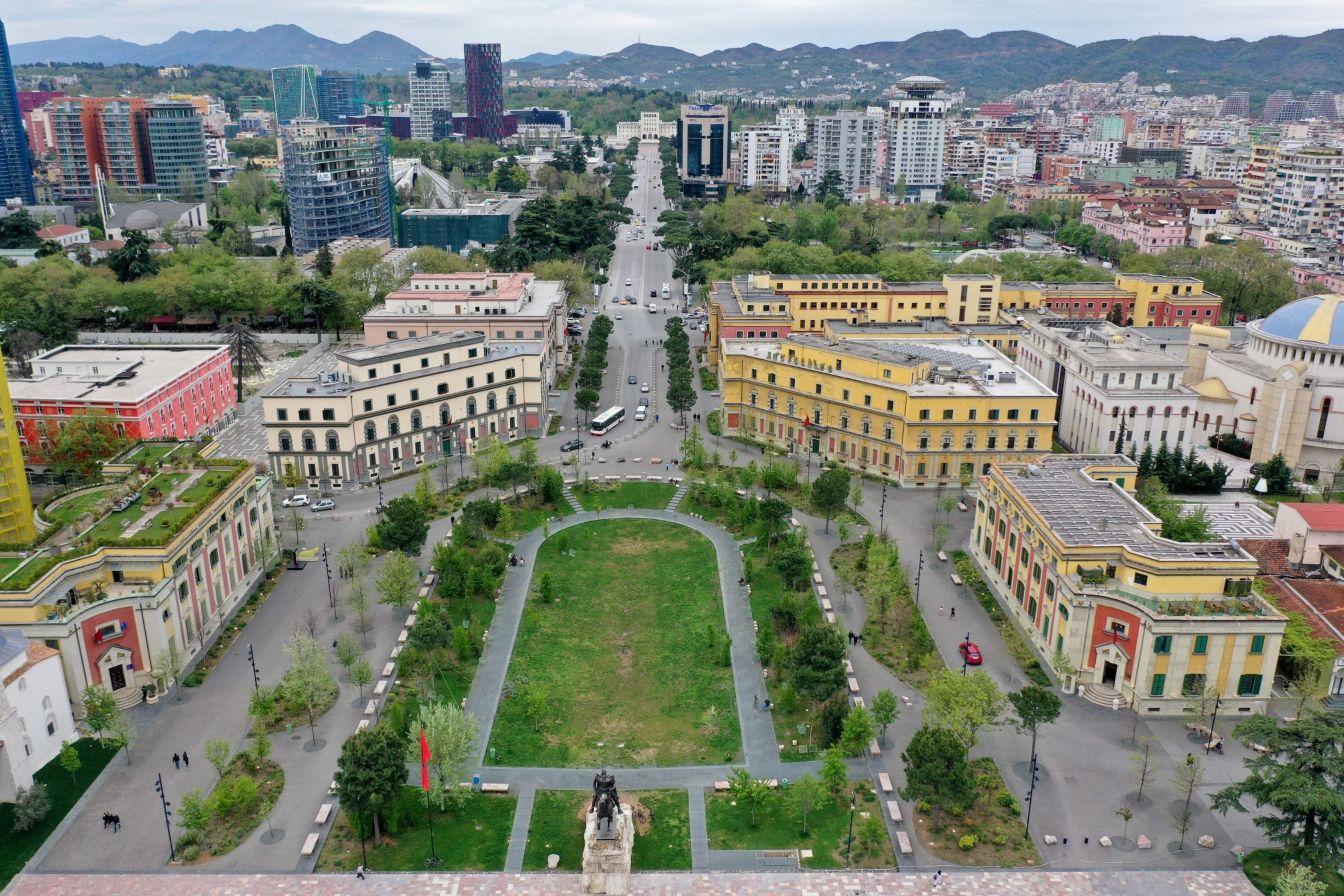 Optional: Paragliding from Dajti Mountain top - 150$
Overnight in Tirana (breakfast)
---
DAY 2
Making our way through the beautiful north of Albania
Today we'll start off the day with an early breakfast so we can make our way to the first capital city of Albania, Kruje.
Once at the dethroned capital we'll be visiting the old Bazar while enjoy the scenic view that reaches out to the Mediterranean before starting our journey to the north!
Enough capital cities, it's time to make our way up to the north to Shkoder and it's beautiful lake but not before taking an essential break at one of the best Albanian restaurants in the country, Mrizi i Zanave, where you can enjoy a delicious local meal (excluded from package - has to be pre-booked).
After filling our bellies with food it's time to fill our souls with more adventure at Shkodra, where we'll have free time to explore and get a more genuine experience of this beautiful lakeside city and its vibrantly coloured streets.

 
Overnight in Hotel Rozafa (Breakfast)
---
DAY 3
Shkoder and the Accursed mountains 
Good morning! Today we'll be starting our day with a nice hearty breakfast before some of us go on our optional activity to kayak in Shkodra lake which is one of the largest bird reserves in Europe, if we're lucky we might even see some of the last pelicans in Europe.
Once everyone's done and ready we will make our way to Theth through the gorgeous Accursed mountains, which have been nicknamed the Albanian Alps due to how beautiful the mountain range is.
We'll arrive to the lush mountainous village of Theth in the afternoon where we'll go on a hike to Grunas waterfall & canyon and have the rest of the day free to explore some of the incredible trails that come out of Theth or just sit back and enjoy being in the heart of the mountains completely surrounded by nature.
Overnight in Theth (Breakfast)
---
DAY 4
Mountains to Beaches, The Albanian Alps to Vlore
Early breakfast at the Thethi Paradise then we'll start our day early by heading to Theth Blue Eye, a breathtaking waterfall nestled in a valley amongst the mountains where we'll enjoy the view and its pristine water.
After our morning hike to the waterfalls we will depart for the dazzling Vlore, a city that sits on a bay that splits both the Adriatic and the Ionian seas and it's known for the beauty of it's beaches and delicious food that's heavily influenced by Italy which is right across from it on the sea.
Overnight in Vlore (Breakfast)
---
Day 5
Llogara National Park & Porto Palermo
Breakfast at the hotel and drive towards our first destination of the day, Llogara National Park, 
Once we've had our fill of Llogara we will drive off to Porto Palermo bay where we'll have a chance to take a dip in the water and swim in this beautiful bay. We will also see the Ali Pasha Castle, a beautifully located at the mouth of the Vivari Channel. 
After we finish at Porto Palermo we'll continue the drive to Sarande where we'll be spending the night.
Overnight in Sarande (Breakfast)
---
DAY 6
Llogara, Porto Palermo & Gjirokaster
Breakfast at the hotel and then we will start our day by heading towards the famous Blue Eye of Sarande where we will take in it's pristine turquoise water.
Once we've finished at the Blue Eye we will make our way to one of the highlights of all of Albania and we will explore the famous city of Gjirokastra a world renowned UNESCO world heritage site.
Here at the fairy tale hillside town of Gjirokaster undoubtedly one of the most beautiful and enchanting towns on the Balkan Peninsula. The city has plenty of gorgeous places to visit such as the Castle of Gjirokastra and the old bazar.
Overnight in Gjirokaster (Breakfast)
---
DAY 7
Gjirokaster, the pearl of Albania 
We'll be waking up for breakfast at the hotel then begin exploring the beautiful Berat, which is a UNESCO heritage site due to its beauty, being a rare example of an architectural character typical of the Ottoman period and for bearing witness to the coexistence of various religious and cultural communities over the centuries.
During our tour of this mountainside treasure we will go visit the Old Castle of Berat, Onufri Museum, the Mangalem and Gorica neighbourhoods.
After the tour we will have lunch and head to Holta Canyon where we will do canyon walking and explore it's winding paths and crevices.
Once we've finished with Holta Canyon we will starting making our way back to the place we started from and head back towards Tirana.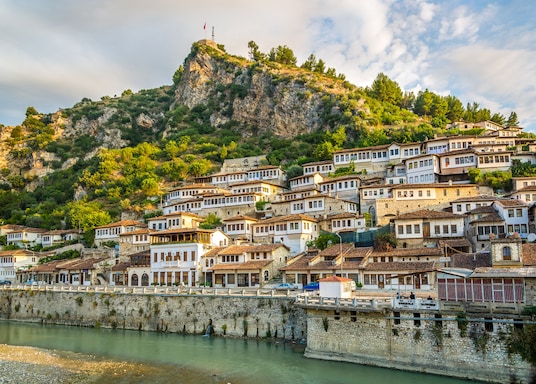 Overnight in Tirana (Breakfast)
---
DAY 8
Depart Albania & Head Home
Sadly the trip has come to an end, so get your souvenirs and say your goodbyes before checking out.
Optional transfer to the airport for departure.
What is included in the tour
All Accommodation on B&B basis
Meals mentioned in the itinerary
Walking tour through Tirana
Dajti Mountain Cable Car Visit
Kruje Old Bazar
Shkoder Lake Kayaking
Grunas Waterfall and Canyon Hike
Porto Palermo
Holta Canyon Walking
Berat guided walking tour
Girokaster Walking Tour
All transfers mentioned in the itinerary
Professional, English speaking guide
What is NOT included in the tour
International Airfare

Meals not mentioned in the program

Personal Spending

Optional Activities

Visa Fees

Airport Pick up & Drop off transfer

Dajti mountain top via cable car
Pocket Money
500$-800$
Every traveler is different and therefore spending money requirements will vary. Some travelers like to purchase more souvenirs than others. 
---
Adventure Leader Description
The Adventure Leader's mission is to make sure you have a smooth experience and to help you have the best experience possible. They will offer recommendations for things to do and see, great local eating venues and help the group interact and get to know each others (most of the time this actually happens on its own). While not being guides in the traditional sense you can expect them to have a broad general knowledge of the countries visited. We also use local guides where we think more specific knowledge is needed.
---
Group Size
Average: 20 pax
---
Meals
Food is an essential part of traveling. Traveling with Gazef we try as much as we can to help you experience the different kinds of food available in each destination. Our groups tend to eat together to enable you to enjoy each other's company. There is no obligation to do this at all times though. We usually leave out some of the meals excluded from the itinerary to give you the flexibility to choose what to eat based on your personal preference. It also gives you more budgeting flexibility. Your Adventure Leader will be able to suggest good restaurants during your trip. Vegetarians will be able to find a range of different foods.
---
Solo Travelers
Our group trips are designed for shared accommodation and do not involve a mandatory single supplement unless requested. Single travelers joining group trips are paired in twin/triple accommodation with someone of the same sex for the duration of the trip. 
---
What to Pack
What you need to bring depends on the trip you have chosen and the countries or regions you are planning to visit. A Packing List will be sent to you as soon as you book the trip. We suggest that you pack as lightly as possible as your are expected to carry your own luggage. Suitcases are not recommended–most travelers carry a backpack or rolling bag of small to medium size (no XXL ones please!). You will also need a day pack/bag to carry water, cameras and other belongings. 
---
Tipping
Tipping is an expected, though not compulsory, component of your tour program. The gesture serves as an expression of appreciation for exceptional service, and amounts given are up to your discretion.
Tipping is one of the most direct ways that you can have a positive economic impact within the community. Although it may not be customary for you, it is an important source of income for those in the tourism industry. Giving a tip should be a seen as a formal 'thank you', and the action should in no way be awkward.
---
ELECTRICITY

The power supply in Albania is nominally Type C and F on 230V supply voltage and 50Hz.
---